​In the face of ongoing economic challenges and fluctuations, such as the aftermath of the COVID pandemic, alongside high inflation and interest rates, a cost-of-living crisis and the turmoil in Ukraine and other external factors, businesses need to think differently to survive and thrive.
Our Driving Innovation & Growth in a Downturn Economy event, held on June 22nd, took place at the exquisite Studio located in the 1901 Wine Lounge, within the Andaz London Liverpool Street Hotel.
Dan Fiehn (Carrot Connect), a long-time friend of Gerrard White Consulting and an insurance tech leader and strategist, who was listed on the CIO Hot 100 in 2022, joined us as a speaker, along with Steve Songaila , a self-proclaimed fast-talking business leader and transformational change expert. Both speakers brought extensive knowledge and expertise to the event.
We were delighted to extend a warm welcome to CTO, CIO and tech leaders from a wide spectrum of businesses and industries who were able to take respite from the heat of the Summer in London in the cooling air-conditioned space at the venue.
Dan initiated the proceedings by delving into why innovation is crucial for businesses, especially during a downturn economy. He emphasized the importance of fostering a culture of innovation and leveraging emerging technologies to unlock new avenues of growth, establish a competitive advantage, and adapt to market needs. By sharing his personal experiences as a CIO, Dan provided practical strategies to the audience.
Following Dan, Steve delivered an empowering session on the Power of You, demonstrating how to maximize personal branding to elevate one's profile and create a competitive edge. He discussed the ten key elements of a strong personal brand, including competency, clarity, credibility, confidence, and consistency.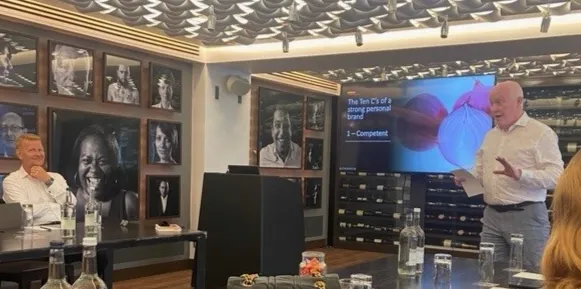 Both Dan and Steve captivated the audience with their engaging and insightful presentations, receiving positive feedback from the attendees.
With the formal proceedings concluded, the Gerrard White team, along with Dan and Steve, invited the attendees to join them for drinks and delicious canapes, creating an opportunity to engage with senior tech leaders and discuss their current challenges and market perspectives.
Post-event feedback from an attendee described it as the best event they had attended in a long time, with another praising the event's informative and enjoyable nature and the actionable takeaways they gained. Such testimonials are a testament to the presenters, the Gerrard White team, and the considerable time, energy, and planning invested in organizing these events.
We extend our gratitude to the Andaz London Liverpool Street for providing the perfect venue, as well as to all the guests who took time out of their day to join us. Special thanks to Dan and Steve for delivering fantastic and highly engaging presentations.
We have exciting plans for future events, if you are a current or aspirational tech leader, make sure you follow our Gerrard White Consulting page to ensure you are one of the first to hear about forthcoming events.
Gerrard White is a specialist Technology, Legal and Insurance recruiter, working with clients across the UK, the US and Canada to provide transformational talent solutions.
Download Whitepaper:
​